Capitol Theatre Seating Chart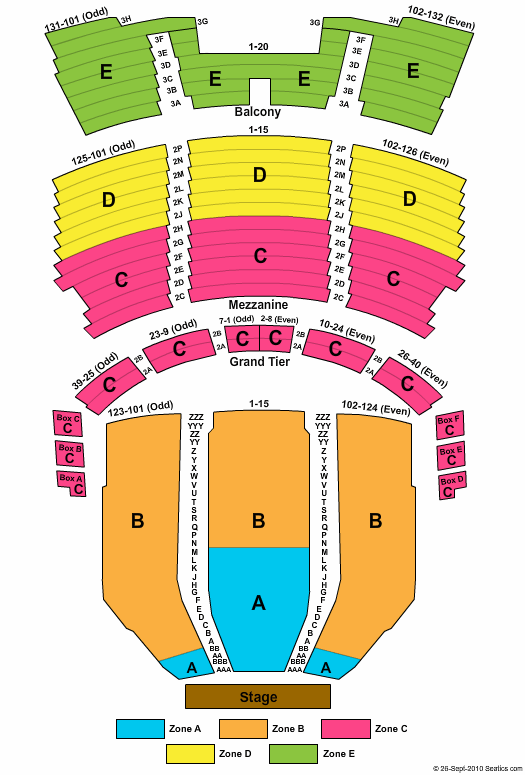 The Janet Quinney Lawson Capitol Theatre has a total seating capacity of 1791. The audience is broken into two levels, the lower level or Orchestra, then on the next level up we have the Grand tier spanning the first two rows, behind these are the Mezzanine and, finally up in the gods is the balcony. Also, the Capitol Theatre sports six VIP Box's with unparalleled viewing of the stage.
Accessibel Seating
Wheelchair spaces and companion seats are reserved for the exclusive use of individuals with disabilities. When purchasing a wheelchair space, you acknowledge that you or a member of your party requires accessible seating. You are also able to purchase up to three companion seats at the same price for the same performance. You may receive a follow-up call from the ticket office regarding accessible seating transactions. The purchase or use of these seats by non-disabled patrons is prohibited and will result in seat relocation or forfeiture of the ticket and any ticketing costs. Wheelchair spaces and their companion seats are in Rows B, N, ZZ and 2P.
Child seating
Booster seat cushions available on a first-come first-served basis at Capitol Theatre. The cushions are primarily for children and petite adults. Cushions are distributed at the coat check stand.
NOTE: Janet Quinney Lawson Capitol Theatre may host events that require different seating arrangements. When you select your tickets, please check the seating chart map that is specific for your event.
You can book your ticket today and grab yourself the best seats available. Check out the Capitol Theatre schedule to see all the exciting upcoming events.
For policies and authenticity guarantees regarding the tickets provided, please see the ticket information page.